Spin Square is one of the few room you have access to as starters, and as the name implies, its a large park to hang around.
NPCs
Several notable NPCs can be seen here, along with many other random NPC Visitor.
Sparks
Assistant Carlson
Bafabon
L.J.
Mr. Points
Zenjiro
Jorondo (after attaining Single Fighter)
Lilio (after using Mix Machine 10 times and cutscene)
GM (during April Fools)
Hanabi (during Summer)
Berg (during Anniversary)
Features
Spin BB, where people post threads and responses. Not all server have this feature on.
Store, where you can sell items if you have the stall for it.
??
View Ranking, where you can view the rankings of everything.
Bafabon
One of the NPC, Bafabon, can be talked to after clearing any of Dr. Diaper's mission to get the mission. Thereafter, he can be talked to for adding skills related to his mission in the dungeons, which are particular useful for the said mission.
Sometimes when you talked to him, he will request for a specific item of a certain level. Depending on what you picked and gave, he will give you something in return. However, on rare cases, he will have lost that said item and instead will either give you a sand used for core accessory creation, or a random golden souvenir 'from Avyon'.
Mr. Points Dice Spin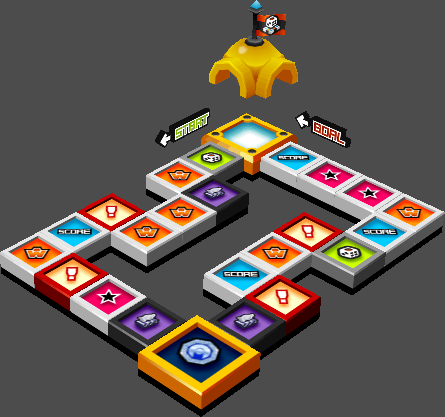 Every day after your time, you can speak to Mr. Points to spin a dice once a day. Clearing the board rewards you with 5 Lucky Coin, and is repeatable.
| Icon Type | Name | Effect |
| --- | --- | --- |
| Start/Goal | Start/Goal | Earn 5 lucky coins after reaching here, also the starting point. Leftover move will not be carried over |
| Dice Icon | Dice Roll | Lets you roll the dice again |
| Tissue Icon | Depressing Reward | Gives you a Tissue furniture |
| Win Icon | Win Boost | Gives a Win bonus rate. |
| ! Icon | Chance | Pick a card out of three. |
| Score Icon | Score Boost | Gives a Score bonus rate. |
| Star Icon | Experience Boost | Boost Experience rate for styles by 2. |
| Lucky Coin Icon | Lucky Coin Panel | Gives 5 lucky coins if you land here. |
If you land on the chance panel, you will pick one of three card. They are all randomized.
| Icon Type | Name | Effect |
| --- | --- | --- |
| Dice | Dice Roll | Roll the Dice again. |
| Gun | Weapon | Gives a random weapon |
| Fist | NPC Battle | Battles certain NPC. Can pick either strong or weak. |
| Lucky Coin | Lucky Coin | Gives 5 Lucky Coin. |
NPC
NPC Battle
Weak
Jorondo
Gray Ponte
Ushimaru
Strong
Prizes
Icon
Name
Comment

Lucky Coin (x5)
Earned by landing in a Lucky Coin panel, a "!" panel and choosing a Lucky coin card or reaching the goal.

Moisturizing Tissue
Earned by landing in a Tissue box panel.

Refreshing Tissue

Airy Tissue

WIN +10%
Earned by landing in a Win icon panel, bonus lasts 2 hours.

WIN +30%

WIN +50%

Score +10%
Earned by landing in a Score icon panel, bonus lasts 2 hours.

Score +30%

Score +50%

Expert Style Bonus
Earned by landing in a Exp icon panel, bonus lasts 2 hours.

Random Weapon
Earned by landing in a "!" panel and choosing a Weapon card or a Battle challenge card.
Store
In some servers, store are available to use in selling of your own inventory of items. How many items you can set on depends on what store you are using to sell items. US does not have this feature as of yet.
There are taxes that are deducted from every item that you sold to other players.
| Icon  | Name  | Amount of items sellable. |
| --- | --- | --- |
| | Street Store | 6 Slots |
| | Market Store | 30 Slots |
| | Giant Store | 60 Slots |
What can be sold in store:
All materials
All furniture
All weapons
Core accessory (only those with your name. Used to be able to sell any accessory.)
Lilio
| Icon | Name | Price |
| --- | --- | --- |
| | Sand of Star | ___ W / 5 C |
| | 4000-year old medicine | ___ W |
| | Magical Gold Dust | ___ W / 50 C |
| | Unicorn Powder | 100 C |
In certain times of the year, Lilio will ask for help to learn more about Wingdom and some of the festivals they celebrate, or helping her out with some problems by getting her either Guidebooks, or certain items for it. In exchange for them, she will reward them with a random items from the list of prizes she can give, some rarer than others.
Material Trading
You can trade materials with Assistant Carlson.
Icon
Name
Trade
Power Type

Amped Turtle
5 Mars Cacti

Cocatris' Egg
5 Amped Turtles

Great Squid's Leg
5 Cocatris Eggs

Flesh of Mammoth
5 Great Squid's Legs

Fiery Ingot
5 Fiery Ores of Sun

Impacted Jewel
1 Roze Quartz, 1 Carnelian, 1 Ruby
Trick Type

Peacock's Feather
5 Butterfly Wings

Bloody Bat Wing
5 Peacocks Feathers

Pirate's propeller
5 Bloody Bat Wings

Moa-Moa Bird Wings
5 Pirate's Propellers

Freezing Ingot
5 Freezing Ores of Comet

Tricked Jewel
1 Aquamarine, 1 Lapis Lazuli, 1 Sapphire
Life Type

Rich Honey
5 Avyon Water

Radical Vitriol
5 Rich Honey

Daigokuin Sake
5 Radical Vitriol

Active Mercury
5 Daigokuin Sake

Stormy Ingot
5 Stormy Ores of Jupiter

Solid Jewel
1 Peridot, 1 Jade, 1 Emerald
Other

Rafflesiales' Petal
5 Green Tea

Mandragora
5 Rafflesiales' Petals

Hsien's Peach
5 Mandragora

4000 year-old medicine
5 Sands of Star

Magical Gold Dust
5 4000 year-old medicine

Rainbow Butterfly
5 Magical Gold Dust